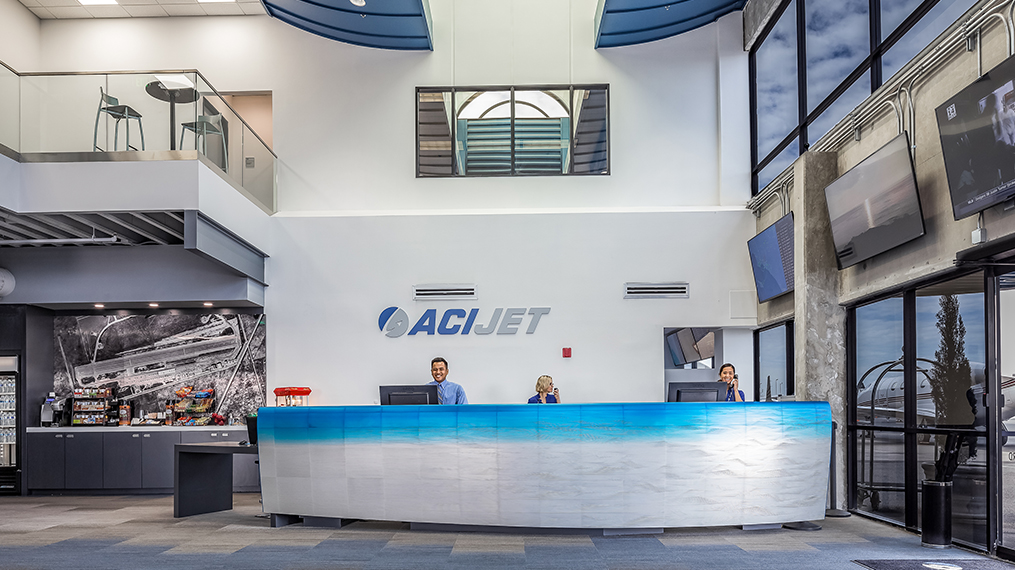 ACI JET, SANTA ANA
Orange County, California John Wayne Airport
Maienza+Wilson Commercial Interior design, corporate branding design, contract Interior design.
Maienza + Wilson has done several projects for ACI jet. These are particularly special projects for John & Gregg as they are both aviators. The FBO facility, ACI jet at Santa Ana, John Wayne Airport in orange county, California was a gut renovation of the old Signature Flight Support fbo. The idea here was to incorporate ACI jet brand design concepts with new ideas in aviation FBL facility. Our client who fly around the world said to us they want to see something that they don't see anywhere else. The result was to insert new ideas and architectural detailing into the shell of the old space. Everything new had to be extraordinary set inside of a commercial concrete box. The result is in artisanal Interior architecture built inside of an unembellished Shell. As a singular artistic statement the reception desk was designed by John, engineered and fabricated by a company that historically made aviation components But now fabricates Artisanal furnishings and objects for designers and architects globally. Anodized aluminum is their medium.
WHAT MAKES THIS MAIENZA+WILSON PROJECT GLOBALLY GORGEOUS?
Aerodynamics, airports, aviators, airplanes, jets, all things Aviation are what make this project globally gorgeous. John & Gregg's favorite design detail for ACI jet Santa Anna is the backdrop Photographic Mural printed on aluminum panels.