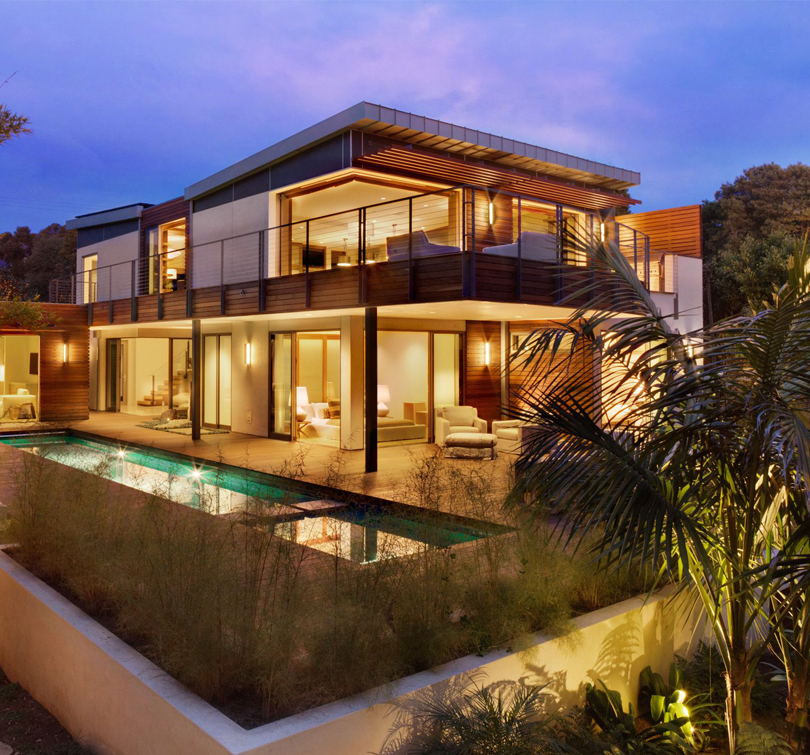 SUSTAINABLE BEACH HOUSE
Santa Barbara, Montecito, California, Butterfly Beach
Maienza+Wilson Design / Build Interior Design, Interior Decoration, Landscape and Garden Design, Construction.
Maienza+Wilson, celebrated for their architectural and interior design achievements as well as a commitment to sustainable living, have received a commendation from the county supervisor for their remarkable Net-Zero and LEED Platinum certified sustainable beach house nestled in the picturesque Montecito near Butterfly Beach. This modern beach house, an embodiment of the California lifestyle, seamlessly weaves together the elements of luxury lifestyle and modern interior design. The distinctive Butterfly roof design, adorned with state-ofthe-art solar water heating and photovoltaic panels, not only elevates its visual appeal but also underscores its eco-conscious essence. Demonstrating remarkable energy efficiency by producing as
much energy as it consumes, you can at times watch the electrical meter run backwards.

This home serves as a testament to Maienza+Wilson's dedication to a sustainable, luxurious lifestyle in the heart of Santa Barbara. Conceived by the talented duo, John Maienza and Gregg Wilson, the incorporation of "Garden Bathrooms" and an open, inviting entertaining environment further enhances the indoor-outdoor living experience, defining the quintessential modern beach house.

Maienza+Wilson's unique fusion of relaxed luxury, innovative design, and a modern interior style culminates in the creation of a compact beach compound that flawlessly encapsulates the essence of a California lifestyle and a modern beach house, all within the confines of a 3000-square-foot haven on a quarter-acre lot.

This project was on the cover of 805 Magazine in an article written by Lorie Dewhirst Porter.
Great 805 MAGAZINE ARTICLE
WHAT MAKES THIS MAIENZA+WILSON PROJECT GLOBALLY GORGEOUS?
Noguchi Lanterns, James Perse Furnishings.