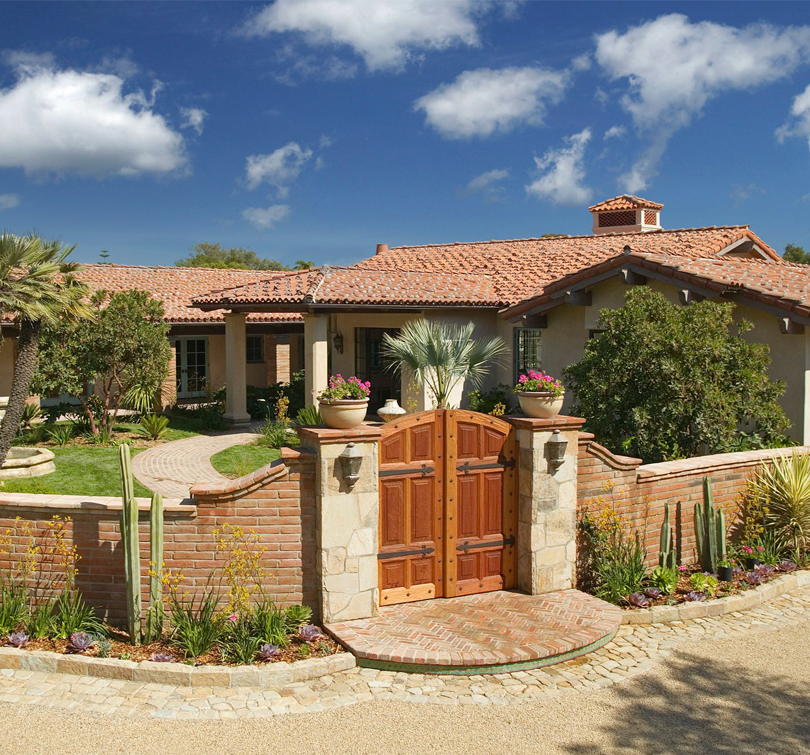 MONTECITO ANDALUSIAN ESTATE
Montecito, California Riven Rock
Maienza+Wilson Architectual New Build and Landscape Design, Interior Design, Interior Decoration and Construction.
Tucked away in the prestigious Riven Rock neighborhood of Montecito is a breathtaking estate, a masterpiece designed and built by the talented duo of John Maienza and Gregg Wilson. The property beckons from afar, its entrance majestically marked by the famed riven rock, a natural testament to the historic charm and significance of the location and lending its name to this iconic enclave of Montecito.

Drawing inspiration from the serene landscapes of Portugal, the sun-kissed coasts of Mallorca, and the architectural heritage of Southern Spain, Maienza and Wilson have seamlessly woven elements from these regions into their design. The result is a harmonious fusion of Mediterranean and Spanish aesthetics, encapsulating the essence of an Andalusian estate.

Every detail of the property speaks to the pair's impeccable taste and commitment to authenticity. The terracotta roof tiles, reminiscent of those seen in traditional Iberian homes, complement the creamy stucco walls. Graceful archways and intricately carved wooden doors pay homage to the grand haciendas of Spain. Inside, one is greeted by high ceilings with exposed wooden beams, a common feature in Mediterranean homes, and ornate ironwork that one might find in the heart of Andalusia.

Yet, while the estate exudes an old-world charm, it carries the distinct Maienza Wilson imprint. Their unique approach to design ensures that traditional elements are not merely replicated but are reinterpreted in novel ways. This fresh perspective breathes new life into a style that, though familiar in Montecito and Santa Barbara, takes on a renewed elegance under their creative guidance.

Lush gardens, designed with a medley of native and Mediterranean plants, wrap around the estate, offering pockets of tranquility and spaces for reflection. In essence, the Maienza Wilson Andalusian Estate is a confluence of cultures, and a testament to the magic that happens when passion meets precision. Here, in the heart of Montecito, one can find a slice of the Mediterranean, lovingly curated and crafted by two visionaries.
WHAT MAKES THIS MAIENZA+WILSON PROJECT GLOBALLY GORGEOUS?
Moroccan tile, Custom Cabinets.